Helping Poland's second-largest cosmetics retailer show


its best face online

Hebe
E-commerce

B2C

retail & fmcg

2019
[ PROJECT SUMMARY ] [ Project Summary ] Launch an all-new e-commerce platform for Hebe – the second most popular health and beauty retailer in Poland. In under two months.
Who needs beauty sleep, anyway?
Products:
E-commerce website
[ HIGHLIGHTS ]
Part of Jerónimo Martins Group – a Portugal-based international group specialising in food and retail

Group turnover of €20.889bn (2021)

Owner of the Hebe brand – a favourite among Polish women

Operates more than 290 Hebe stores across Poland
[ Challenges ]
(Not only) cosmetic


changes
Turn offline services into online experiences
Hebe were late to the digital transformation party. So it was our job to guide them safely through the pitfalls and complexities of the process – and get them looking fresh for a new audience of online buyers
Create a flawless digital complexion
The new e-commerce platform is a major milestone for Hebe. And it has to show the brand in its best possible light. So as well as the usual discovery, strategy and design phases, rigorous quality assurance would be absolutely crucial.
Launch a thing
of beauty
Building a slick, high-converting e-commerce site in such a short time was always going to be a challenge. But with our mega-talented in-house team, and our experience of similar projects, we knew we had the skills to deliver.
Over the past month, we have been doing internal and external user testing. The feedback about the design, navigation, intuitiveness, and ease of use has been extremely positive. The work Flying Bisons produced, the ideas they had, and what we were able to put into practice so far is very positive.
Francisco de Almeida
ECommerce Director, Hebe
[ Discovery ]
Good foundation

is a key
Great businesses are built on exceptional experiences. To make those experiences possible, you first have to understand your users' needs, motivations, pains, goals, and behaviours.

So that's where we started with Hebe, as we do with all our clients. And we soon arrived on a key insight. Although our specific job was to digitise their offline services, we had to ensure the online offering provided the same consistent, first-class experience that customers receive and expect across all channels.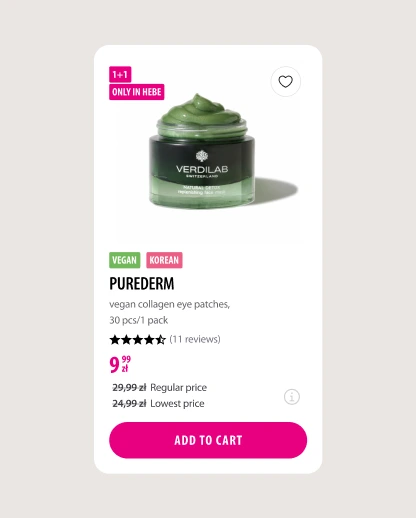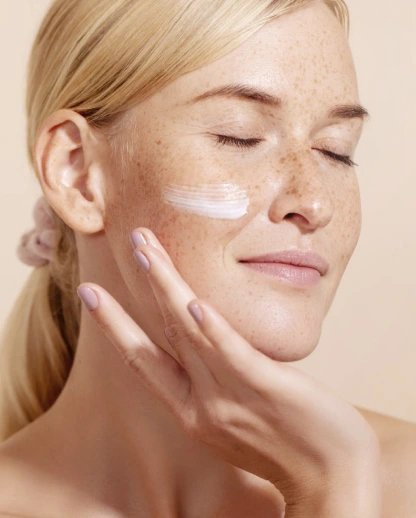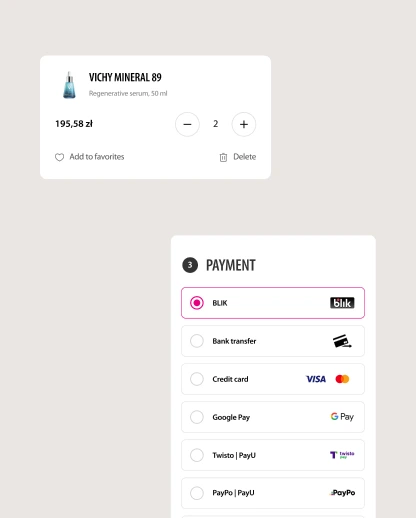 [ Approach ]
Nailing

the process
Quantitative research
Google Analytics and CRM data analysis

Based on our qualitative research and insights from the discovery phase, we were able to create a clear and simple model of how the new e-commerce site would work. We defined the essential user flows and patterns, which let us move to the next stage of the project with as little risk as possible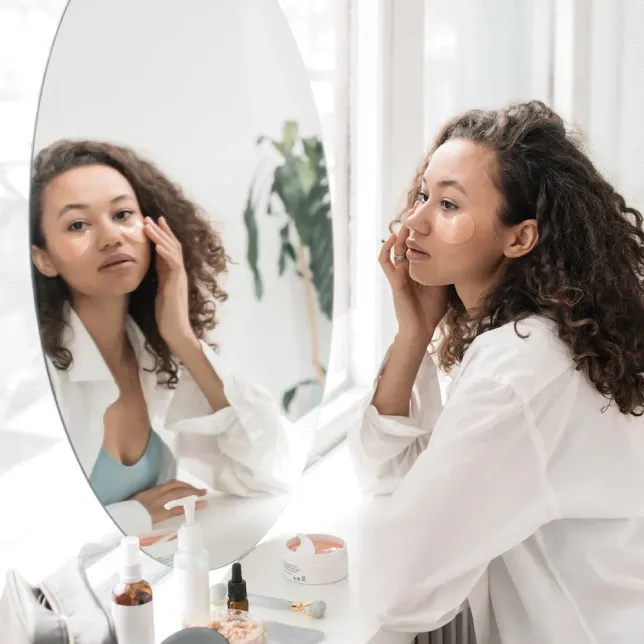 Sitemap
Clarifying the scope and content of the new e-commerce site

The old Hebe website was heavy on content and had dozens of subpages. So before we could start creating any sketches, we needed to organise and prioritise the scope of the new platform.

We added multiple pages focused on e-commerce, while identifying and removing old content with low view counts. This allowed us to keep time and costs to a minimum, and focus our attention where it was most needed
Wireflows
Defining essential subpages and the interaction design

Many designers start their design process with sketches, before jumping straight into wireframes. In doing so, they miss a crucial step: wireflows. Wireflows are simple sketches of the screens and interactions a user must follow to complete a specific task. And, on this occasion, they would prove to be an essential building block for the new platform's success.
Navigation & Categories
Simplifying the experience of browsing products and categories

Finding simple, user-friendly ways to present product categories is a challenge in any ecommerce project. In Hebe's case, we solved it by creating unique collections for all the main product categories – giving users an easy way to explore the most attractive offers
User Experience
Getting the wireframes right

We created wireframes of 200 unique screens for web, mobile and tablet touchpoints. All our design decisions were based on our previous research and client collaboration, which minimised the risk of any major changes being needed after launch
[ Results ]
No more blushing, the


results are stunning
They say beauty is only skin deep – and that's as true in design as it is in life. An ecommerce site might look stunning on the surface, but if the underlying user experience is poor, customers won't stay attracted for long.

Happily, our process means that visual beauty and practical functionality are always delivered as standard. We think the new Hebe website looks like a million dollars zloty. And we're sure it'll be worth the same to the company's bottom line – many times over.
Unleash Your
Digital Potential
- Today.
Join our list of clients. You'll be in good company.