A digital consultant is like a guide to making the most out of the digital world. Let's look closer at a person who can navigate the ever-changing waters of the digital landscape.
What is digital consulting?
Digital consulting means providing businesses with strategic guidance to use digital technologies to achieve their goals. As mentioned in our article "What is digital consulting?", the scope is quite broad and covers anything from digital transformation, UX design, and digital marketing or digital advertising to a general digital strategy.
Who is a digital consultant?
A digital consultant is a digital native who understands all the inner workings of the digital world and knows how to leverage them to drive business results. They can evaluate a company's current digital standing point, determine growth opportunities, and help develop innovative strategies for improving its performance.
A digital consultant understands UX design, UI design, development, digital marketing, and data analysis not only as separate fields but also the interactions between them. A digital consultant can guide a company through digital transformation, optimise its digital presence, or help deliver a digital experience and content that customers love.
What does a digital consultant do?
Digital consulting is nothing else but helping a business achieve its digital goals. To do so, a digital consultant can provide the following:
Digital strategy development
A digital strategy is a plan to achieve a company's digital goals (similar to a UX strategy, which we described in detail in our previous article). A digital consultant will use their knowledge and research on market trends, target audience, and competitor analysis to create a roadmap for the digital project.
Digital transformation guidance
A digital transformation means helping a business change and take advantage of technology to reach its goals and enter a more digital future (we've talked more about digital transformation in our article "What is digital transformation?"). A digital consultant can guide a company through the process to ensure it brings the best results.
UX design
User Experience design refers to the user's experience interacting with a digital product (you can read more about it in our article "What is UX design and why is important"). Most digital consultants have a background in UX design and can help their clients create consistent and intuitive solutions for all their digital products. In this case, a digital consultant can conduct UX research, take care of UX design, and provide UI design for the project.
Digital marketing and branding
Since the Internet is a big part of our lives, a company should have an outstanding digital presence. Branding is crucial, so a digital consultant can play an advisory role for the marketing department to ensure they get the most out of their digital efforts.
Technology evaluation and development
Digital product development means using the right technologies to deliver the right user experience. A digital consultant can analyse, assess, and recommend the right technologies and tools so that the chosen solution meets all business requirements.
Analytics and performance measurement
Achieving set goals starts with making data-driven decisions. Digital consultants can evaluate the effectiveness of digital initiatives, establish an analytics framework, define key performance indicators (KPIs), and provide insights that lead to strategy optimisation, higher sales, and continuous improvement.
How to become a digital consultant?
The best way to become a digital consultant is to already stand at least one foot in the digital world – either through education, skills, or practical experience. So if you want to go after a digital consulting career, consider the following steps:
get a solid educational foundation – obtain a degree in a relevant field or participate in various online courses related to digital consulting,
develop your digital skills – gain certifications in UX/UI design, digital marketing, digital analytics, digital accessibility, project management, or IT development,
gain experience – become an intern at a digital consulting company or apply for entry-level positions and develop your career from there,
network – meet and engage with professionals in digital consulting,
choose a niche – specialise in something that's part of digital consulting, e.g. UX design,
never stop learning – the digital consulting world moves fast, so keep learning and stay updated on current digital trends.
Becoming a digital consultant is not just about skills and experience, though; you need to stay creative and curious and keep a customer-centric mindset that you can use to drive business results. The digital world evolves and changes, but a can-do, problem-solving attitude will help you forge a successful career in digital consulting.
Can you become a consultant without a degree?
Absolutely! In fact, it's not uncommon for people in the digital world not to have a degree (or at least not one related to the field). Formal education can often help you at the beginning and give you the basis you need, but you can also build your career on experience, skills, and expertise. A thought-through portfolio, networking, and solid personal branding can take you a long way.
Certifications and experience
Formal education may not be a requirement, mostly thanks to certifications and experience. There are plenty of courses and certifications that can prove you have the right skills for the job:
Project management certifications, e.g., Project Management Professional (PMP) or Certified ScrumMaster (CSM),
Digital marketing certifications, e.g., in Google Ads, Google Analytics, Facebook Blueprint, or HubSpot Inbound Marketing,
UX/UI design and UX research certifications, e.g., Certified Usability Analyst (CUA), Nielsen Norman Group UX Certification, or Baymard's UX Certificate,
Data analytics certifications, e.g., Google Analytics Individual Qualification (IQ), Microsoft Certified: Azure Data Scientist Associate, or Tableau Desktop Specialist.
You should also consider getting familiar with the most popular consulting methodologies, such as Agile or Design Thinking.
When gaining experience, you can start as you would with any other job – with internships and entry-level jobs that will allow you to start building your portfolio.
What are digital consultant skills?
A digital consultant has a combination of hard and soft skills.
Hard skills
UX/UI design
Digital marketing
Digital strategy
Web development
Data analysis and analytics
Project management
Coding & scripting
Content writing (copy/UX writing)
Data visualisation
Technology tools and platform knowledge
A digital consultant should specialise only in some of those but have a basic knowledge of all.
Soft skills
Communication
Problem-solving and creativity
Adaptability and continuous learning
Collaboration
Client Management
Leadership
Time Management
Business acumen
Navigating digital projects can often be tricky, so a digital consultant should have all of those soft skills to deliver results.
Where do consultants work?
Digital consultants can work in consulting firms, digital agencies, start-ups and tech companies, government and non-profit organisations, and, of course, as freelancers/independent consultants. They also often work remotely since the job is flexible, thanks to current technology and communication tools.
How can I be a good digital consultant?
A skilled digital consultant knows the digital world inside and out. Develop your expertise and stay up-to-date with current trends and emerging technologies. It's also crucial to understand the business context to drive real results, strengthen your communication skills, and treat your relationships with clients with extra care. However, the most important trick to being good at digital consultancy is to keep the right mindset and attitude. You should always approach challenges with a creative problem-solving mindset and work on projects (and in between them!) with a "let's see what's more there to learn" attitude.
Digital consultant salary
The salary of a digital consultant depends on their experience, location, specific role or area of expertise, and whether they work for a company or as freelancers. Since it varies a lot, it's always best to check for standard salaries for a specific country and industry.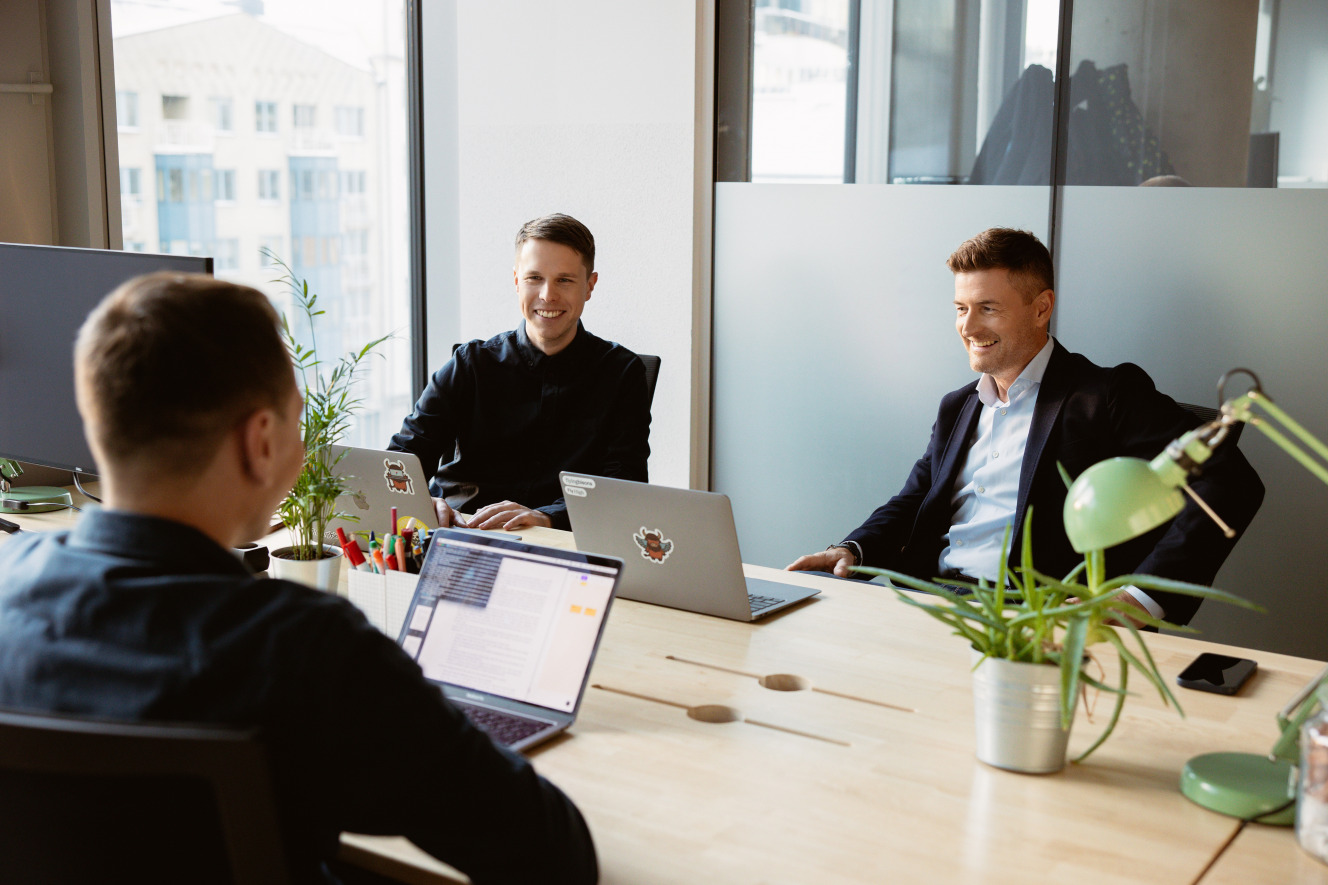 Become a member of the Flying Bisons' team
The best way to become a digital consultant starts with working with the best people in the industry. In fact, if there's one thing every digital consultant needs, it's the flying spirit, and we know what we're talking about – we have the best digital specialists in the game. Start your flying journey and join the herd.
Summary
Digital consultants help companies ensure that their digital presence is nothing short of remarkable and drives much-needed business growth. Whether you need a digital consultant's help or are looking to become one, Flying Bisons has its door open.
FAQ
What is the difference between consulting and digital consulting?
Consulting is broader – it means advising businesses and companies to solve specific issues, improve performance, or achieve strategic goals. Digital consulting refers to pretty much the same advice and guidance, but it stays within the digital field.
For example, traditional consulting covers management, strategy, finance, human resources, operations, or marketing. Digital consulting, on the other hand, is focused on digital technologies, online platforms, digital marketing, user experience (UX) design, data analytics, e-commerce, and other digital aspects of a business.
Will digital consulting be automated?
Digital consulting, in general, will most likely not be automated, but certain routines or tasks may be. Problem-solving, contextual understanding, strategy, creativity – all of those need a human factor that only a (human) digital consultant can provide. Only human consultants can help navigate the ever-changing digital landscape for the foreseeable future.