The idea that the world of digital technology and media is rapidly changing is almost a truism. The fact is that it is constantly accelerating, and the key to understanding it is not only through passive observation but also by being part of the process and actively shaping this change.
A definition of digital consulting
Digital transformation has forced many companies to reinvent their business models. The comprehensive scope of digital consulting is intended to help businesses implement their digital strategies to meet assumed results and goals. This might mean designing a user-friendly website or platform or redesigning an existing one (as in our example at the end), guidance on social media, analysing digital marketing and data, PR, optimising content for SEO, branding, monetisation and anything else which is rooted in the digital world.
How is digital consultancy helpful for your business?
The benefits of digital consulting are based on many proven success stories. It boosts innovation in business and has a huge impact on the pace of digital transformation in many different industries. But digital transformation is not about completely replacing old technologies. In fact, its essence is to make your business a data-driven organisation, ensuring that key decisions or processes will be influenced by data-driven insights.
In the post-pandemic period, business leaders must reimagine and redefine the position of their companies in the digital world.
Research – collect valuable data and insights
Good, well-thought-out decisions should always be based on well-planned and conducted research. It supplies a realistic context and significant insights into the design process. Gathering qualitative and quantitative data enables us to take data-driven decisions one step further.
Strategy – let's plan how we to unleash your digital potential
This stage of digital consultancy is about making the best achievable plan on how to unleash your digital potential and choose the right direction. It focuses on creating the entire product design and development process to optimise and deliver the best possible value.
Concept & Validation – time to check what we have
Time to test the assumptions we made in the previous phases. This is the moment where we can still turn back and make changes quickly. Just to be sure that your digital product meets your users' expectations.
UX/UI Design – meaningful experiences that connect
A well-designed, functional, intuitive-to-use product is the main focus of User Experience Design. We deliver world-class digital products which are not only beautiful but also increase sales and conversion and get more users on board. Great product design brings your success closer.
Development – bringing the final product to life
The development phase is where the results of research, strategy, branding, design work and validations add up. The main goal of this phase is to create previously designed products with the quality corresponding to the end product. We create digital products from scratch, but we also can maintain your existing ones – our team works on complex front- and back-end web products.
Analytics is the process of discovering, interpreting, and communicating significant data patterns. Only by relying on good, proven, meaningful data can we establish the basis for making the right business decisions.
Next iterations – we are not done yet
Your digital product is ready, but just as the digital world is constantly changing, so it must keep up with it. We will deliver your product that looks amazing and works flawlessly, but it is not the end – it has to grow as your business does. Next iterations, according to the above process, will be easier and faster to carry out – after all, your product already exists!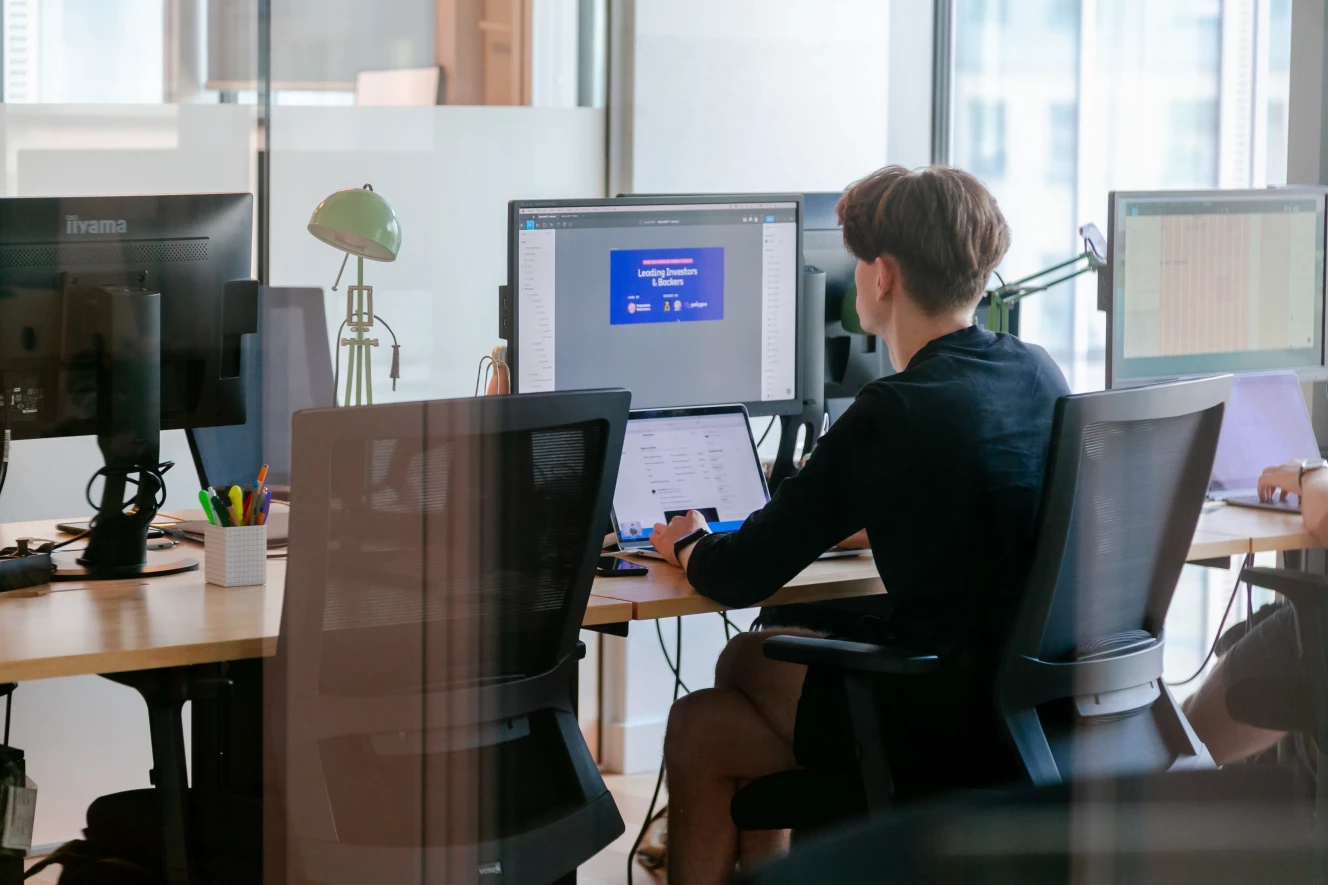 What is the future of digital consulting?
Two important forces are driving the digital transformation phenomenon of digital consulting services: globalisation and demographic changes.
Experts agree that the demand for technology consulting will only grow.
In the digital-first experience, combined with common automation and the growing potential of AI, it is unsurprising that the meaning of digital consulting is rapidly developing. Most likely, with the fast growth of data and new technologies, this will keep increasing at an exponential speed.
Advantages of hiring a digital consulting company
Hiring a digital consulting company significantly benefits the firm by helping them to reap the benefits associated with meeting strategic goals and accelerating organisational growth. Having a trusted partner in business also:
saves your company time and money, at the same time allowing you to focus on other tasks
gives a completely new perspective than what internal employees see
brings broad, diverse, deep industry expertise knowledge
develops and sets high-end, fresh strategies
helps to accurately identify a marketing roadmap
improves technology infrastructure
gives measurable results.
Why you should choose Flying Bisons
We are a one-of-a-kind problem-solving company
Initially, we started as a UX/UI studio, but along with a better understanding of the market and our customer needs, we quickly evolved into an Experience Design Consultancy. We deliver world-class digital solutions in an end-to-end process, including the best possible UX and UI, broad research, business-oriented strategy, versatile technology development, advanced analytics, and maintenance of the whole process. As a quality-oriented digital consulting firm, we can guarantee the best possible process for the whole digital service.
If you thought Unicorns are rare... well, Flying Bisons are even rarer
At Flying Bisons, our main feature is a unique mix of competencies. We merge the best qualities of consulting companies, creative agencies, and software houses. And only with a combined business approach with creativity and deep technical knowledge can we speak of the potential to obtain a full understanding of the topic.
We help create and implement changes that matter
We are pioneers and leaders of digital consultancy in our part of the world. We have the resources and knowledge to conduct research, create a strategy, invent, design, create content, develop, and optimise digital products in a way that will be consistent with the adopted business assumptions. At the same time, we want to be an agent who makes a positive impact on the world with well-designed, meaningful experiences for millions of people.
That's why we are partners with the largest brands in the world to whom we provide the best possible quality projects and achieve tremendous business results.
After all, we are Bisons who learned how to fly, right?
Digital consultancy, real results
One of our largest projects this year is the whole process of the revitalisation of an online media platform for a leading Polish media group – Grupa naTemat.
We created a well-designed, user-focused upgrade that better reflects the client's vision and strategy. More importantly, it delivers outstanding business results.
Content is the main star of the show, so our goal was to supply easy-to-read articles in a format which maximises reading efficiency and keeps users hooked until the end. The reading experience is now clear and simple.
We also applied a modular approach to the design, building all of the screens from reusable components, making it more efficient, consistent and customisable.
The numbers speak for themselves
Our work quickly brought measurable (and expected) results. Check it out for yourselves:
+17% Unique users
+23% New unique users
+30% Sessions
+29% Page views
+11% Sessions per user
+2,300% uplift for Audiobrief (daily five-minute podcast)
Makes an impression, doesn't it?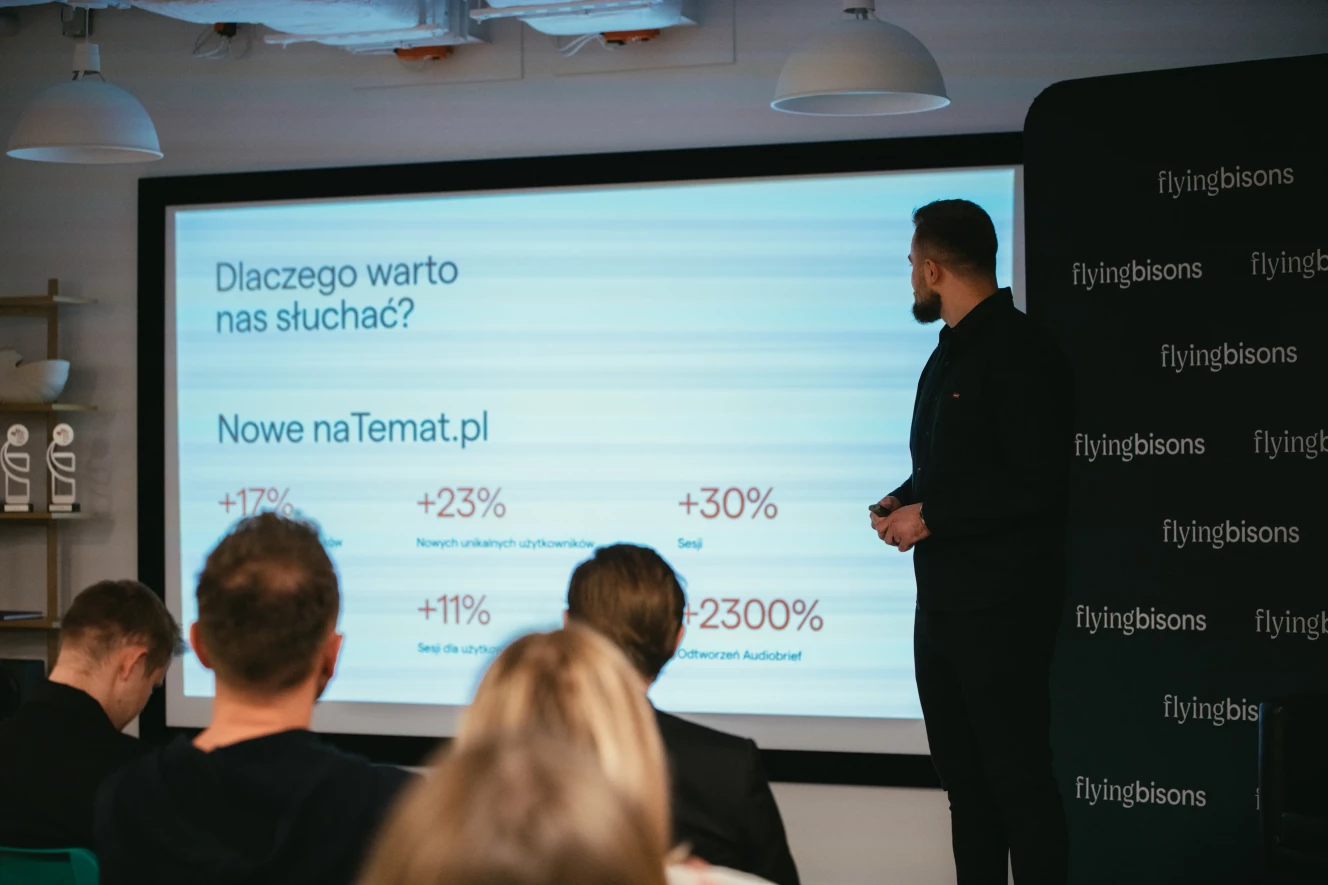 FAQ
What is the role of a digital consultant?
A digital consultant's main role is to help clients transform the way in which they use technology in their business – from digital strategy to advanced technological changes.
A digital consultant helps to improve business processes, reduce costs and maximise the use of technological opportunities.
A digital consultant is a silent hero with an objective eye, one who helps companies unleash their digital potential.
What is digital technology consulting?
Digital technology consulting focuses on the development of digital strategies and tactics. Based on analyses and business expertise, it supplies answers as to how a company can achieve its innovation and marketing goals.
Digital consultation also includes market research, analysis of industry and trends, selecting scalable solutions and data technologies that fit the client's requirements and delivery deadlines.
Digital consultants also design and develop tech solutions and integrate technology into business processes.
What is digital media consulting?
Digital media consulting is a fast-paced and rapidly growing field, one which is focused on helping businesses navigate the world of digital media. At Flying Bisons, we know the importance of a holistic approach and that digital media consulting must consist of Internet brand development, digital marketing, SEO, social media & web development, also including blogs and email campaigns.
Digital media consultants advise businesses regarding how to best use new platforms and technologies to grow and promote their brands and products.
Digital media consulting can consist of:
conducting research to identify customer needs and preferences
improve an existing digital media strategy or developing a new one
creating the best social media strategy (also: creating, managing, and updating websites and other online content)
redesigning websites
developing advertising campaigns
providing consultancy services on all aspects of digital media production
recommending ways to increase website traffic.
References