The future of UX looks more promising than ever. Are you hiring a company to design human-centred services? Or maybe you want to have a career in the industry and design UI? Let's see how UX design has changed and how it may evolve in the near future.
How has UX design changed over the last five years?
Stakeholders are increasingly aware of UX design, and it's easier to find UX designers as more people choose this career – which is fortunate for any company that wants to build human-centred services. We have met the most optimistic prognoses for the future of UX. So, how has UX design been evolving?
Change in the meaning of UX design
UX design is currently understood as user interface design – UX designers create methods for people to interact with a device via its screen or, possibly, a button or two. They design UI for digital solutions like an app or a site. The term "customer experience" is used for offline interaction touchpoints between brands and customers.
What was UX formerly called? This is hard to answer, as it's a modern career – but in the past, UX design had a broader meaning. It also included the development of a physical product to make it intuitive and functional in more ways than just in the context of a digital interface.
Human-centred app and web development is based on research and analytics
These days, UX designers realize it is crucial to fully understand user needs before designing a product or website and launching web development. This entails analysing trends and competing software's performance, but also giving voice to consumers.
UX designers now need to not only design UI but also perform in-depth interviews, conduct studies, and run usability tests. This has led many professionals to choose a more specialised career as a UX researcher, not a designer.
Stakeholders have understood the need for research that minimizes project risk when working on a new digital product or other technology.
As UX design demand grows, people with experience in areas like psychology are increasingly joining the information technology industry.
Wireframe prototyping gains importance
In the past, a designer would mostly design UI – visual content resembling the final product. Wireframes were less popular, and frequently, even UX designers would not distinguish them from a graphical interface.
These days, wireframes are an important part of a UX career. Designers readily utilise them when preparing an initial layout of a website or another digital product. Only after their validation do they design UI.
UX design project size and complexity undergo a rapid increase
The importance of UX design in product and web development has grown – and so has the overall design process. In the past, it was typical for a designer to be a one-man army. They would conduct a few user interviews, make interface wireframes, and likely design UI themself to pass it on to frontend development.
Now, design projects operate according to well-defined processes. UX designers usually work in a team composed of professionals who have a general understanding of design, technologies, and digital marketing but are also focused on a narrower set of skills.
At Flying Bisons, we split our user experience experts into UX designers, UX researchers, and UX writers.
Design needs have grown exponentially, so an interface for a modern mobile experience may consist of thousands of screens. Product design teams have increased in headcount, and their impact on the final performance of digital technologies is much larger. Software development teams are still bigger than design teams, but the future of UX looks bright, and the proportion of UX designers is generally increasing in product development companies.
Design and development interact more, and product design becomes component-driven
In the past, it was said design systems could revolutionize design – and that's exactly what happened. This product design methodology consists of building the interface of a digital experience from components that can be arranged into screens.
In the past, we would design UI screen by screen, which caused slower performance of UX designers and turned any attempt at redesigning a digital product into a nightmare (if you want to know the difference between UX and UI design, check our article "UI vs UX: what is the difference between UX and UI design"). These days, a well-managed app or web interface is based on components that are prepared before a designer sits down to construct an actual interface. Cloud technologies have made it easier to exchange data online so teams can collaborate on projects faster than ever, no matter how large the site or application is.
Design systems also make building a digital product more effective for programmers. Components are accompanied by all necessary data, including documentation and code snippets that make future app or web development a breeze. Programmers just use their technology expertise to make existing components work in the context of a certain screen of a site or application.
This new methodology is likely the future of UX – and it has caused a typical designer to interact with software devs much more. Another positive consequence of this change in the UX industry is that a modern designer tends to understand technology much better than a designer from the past.
Is UX design dying?
No way! Yes, the industry might be unrecognizable to a designer who fell into a coma five years ago. That person may have had to talk to users, make wireframes, design UI, deal with data analytics, and even dabble in digital marketing. What was required in a UX career has undergone a large change, and the typical experience of creating a site on the web is now very different.
UX design is simply transforming into a much more professional industry that has an increasing impact on the online world, including all sorts of website media and even digital marketing.
However, that doesn't mean UX is dying – it is simply transforming into a much more professional industry that has an increasing impact on the online world, including all sorts of website media and even digital marketing. The future of UX design is very much alive.
Where will UX design be in 5 years?
You now know all about the change the UX industry has undergone, but what is the future of UX or, more broadly, the future of product design?
We may see growth in gestural interface solutions as gestures are increasingly being seen as a natural way to communicate with technologies. As businesses focus on online services, the need for user-friendly web experience will continue to grow, and so will the number of people who want a career in product design. UX design will likely keep expanding in terms of the types of specialists that can have a career within this industry. What skills are becoming increasingly important in UX design?
For starters, data analytics skills are a crucial competency needed to build a truly human-centred web experience. UX design is learning something that is already obvious in digital marketing – data analytics is the best way to understand a user. In-depth interviews will remain an important tool, but UX design experts will also increasingly rely on data from millions of instances when a user interacted with their services. This will allow us to constantly optimize the performance of any digital product or website.
Content is another area that is quickly transforming from an afterthought into a key activity for any designer. Images and text strings are a significant part of any interface and how a user intakes data. They can influence a product's performance in terms of digital marketing and revenue generation capabilities. The industry is progressively understanding that it has to control what images and paragraphs will look like in the browser or whatever programs are being designed. To ensure a consistent user experience, future content needs should be mapped out at an early stage, long before web development starts and the final website goes online.
Some think the product design future lies in no-code solutions, but I don't believe that. Major clients need custom, human-centred online services based on their own user data. Generic computing technologies like no code and low code simply can't do that within five years. The UX design industry needs companies that provide holistic technology services and take responsibility for user experience and the results it brings.
Embracing the future of UX with Flying Bisons
The future of UX design is what we create at Flying Bisons. We change along with the industry, adapting how we design UI to unleash our clients' digital potential. Our UX designers have the skills to create an app, site, or web platform that performs: we conduct research, support companies in creating data-driven strategies and designs, and deliver products based on efficient design systems and integrated design + dev frontend teams.
Step into the future of UX design with a reliable partner. Get in touch with us!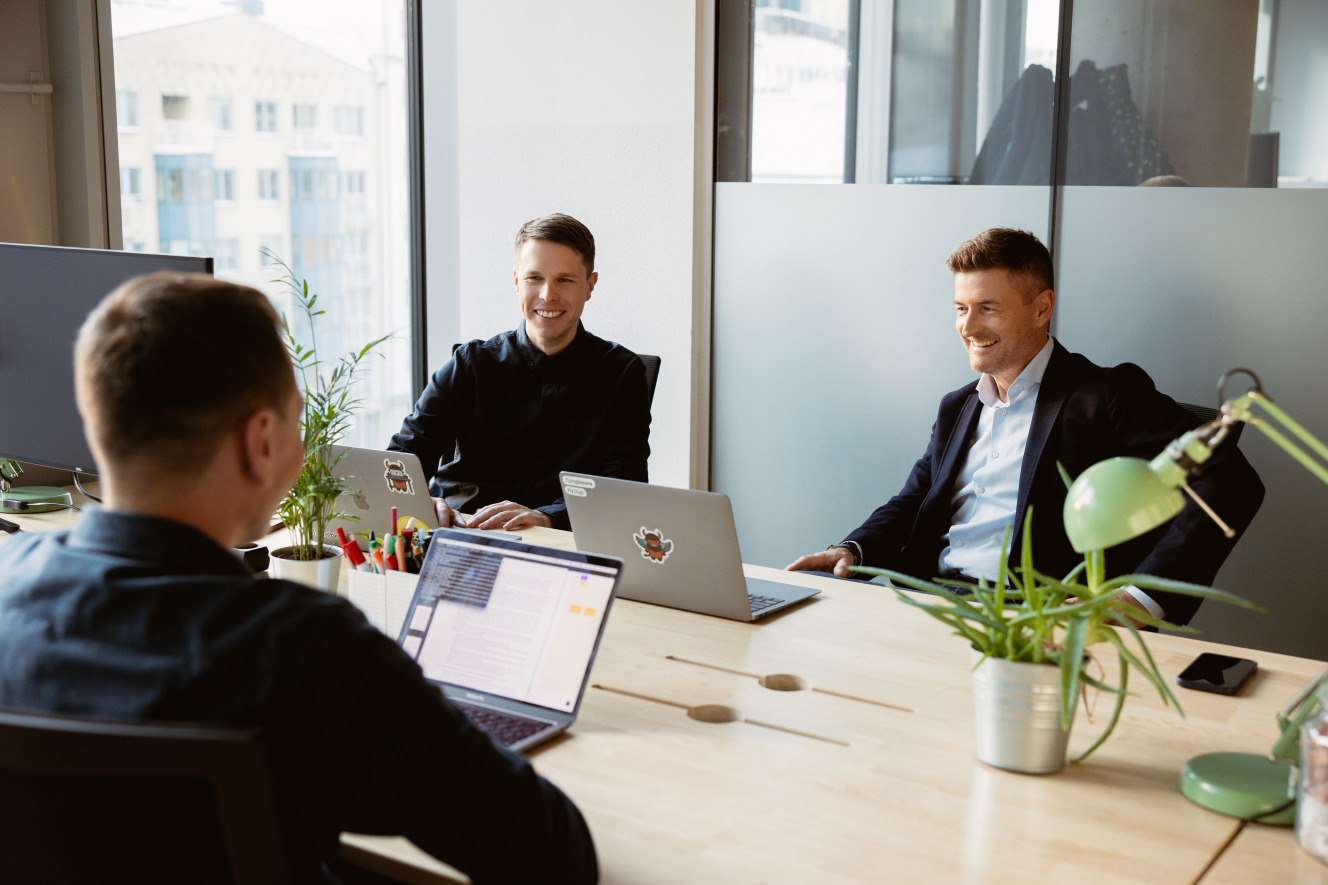 FAQ
Is there a future for UX design?
UX design will definitely keep growing. It's a great career to consider if you want to design UI and a crucial phase when building a product.
How will UX change?
UX design will change by increasing focus on content and data analytics. These are good skills to develop for someone interested in a UX design career.