Nethone is at the top of the security & anti-fraud industry. A while ago, we redesigned their website and refreshed their brand look. Today, we sat down with Magdalena Kowalska, Nethone's Head of Marketing, to talk about our collaboration.
Who are you, and what are your top responsibilities or goals at work right now?
My name is Magdalena Kowalska. I am the Head of Marketing at Nethone, responsible, among others, for initiating, coordinating, and delivering all team efforts to generate inbound opportunities for the commercial pipeline.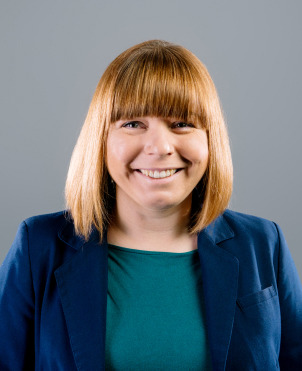 Magdalena Kowalska
Head of Marketing at Nethone
B2B technology marketing professional with a demonstrated history of working for cybersecurity, fintech and legal. Experienced in team and project management, negotiation, events oversight, internal and external communications.
What were the challenges or problems you wanted to tackle or solve? What were your goals?
After a few years with the current website, we needed a change - both content- and design-wise. We have a new product offering, and we needed our website to be one of the main selling channels. With quite a diverse audience, we needed a deep dive into their needs, not only looking at them from Nethone's perspective. Our main goals were:
Showcasing and communicating Nethone's new offering clearly and understandably for all target groups of the brand.
Developing a tone of voice based on the language used by customers of Nethone.
Facelift of Nethone's branding that refreshes the image and allows for better communication of the new offering (two products vs one solution).
Lead generation - changing the website's function from a 'business card' to a fully-fledged sales channel.
Why did you choose Flying Bisons as your digital partner?
We searched for the best UX/UI designers with international experience in creating websites that can sell fintech products via online channels. We were also looking for recommendations from the market, and we decided to trust Flying Bisons with the project. One of the key factors was receiving referrals from two companies that were in contact with them.
How long have you been working together?
The project lasted from May–October 2022. Although Flying Bisons finished the bulk of the work in September, they worked for a few hours in October, making final touches to the graphics and 3D animations. If we need additional designs and advice on the design approach, they're open to initiating cooperation again or jumping on a call without signing an additional contract.
What was the scope of Flying Bisons' services for your company?
Flying Bisons designed our new website's UI/UX and helped us with the tone of voice and content creation. The team also produced 3D graphics and animations for us based on our branding. Since our product and market are complicated from a regular user's perspective, the Flying Bisons' team started with a research phase talking with our sales/customer success/product teams and customers. Based on their insights, they shared recommendations regarding the new offer's tone of voice and information architecture. They also showed initial website concepts. Then, they created the design and content roadmap and started designing the screens.
What were the results of partnering with Flying Bisons? Can you share any data or evidence of its impact on your product/goals/challenges?
The website has been live for a very short time, so I cannot provide any specific data yet. It looks promising, considering everything they designed and the internal tests and validation of the UX & UI designs.
What are you the proudest of?
The final outcome of the design refreshment and 3d key visual. It's super fresh and gives us many opportunities to use it in every channel – online and offline.
What would you do differently if you started cooperating with Flying Bisons again?
If I were to start from scratch, I would first have a 100% finished product offering & strategy, as it's the starting point for all discussions and designs. Secondly, I'd simplify design where is possible. Sometimes embellishments are not entirely necessary and cause a lot of challenges during the development process.
Is there anything Flying Bisons could/should have done differently or better? Why?
Our message is quite technical, very product-centric, and only sometimes SEO-friendly. It was a challenge to gain perfection in technical copywriting. From the fast-evolving tech company perspective, we need to focus more on the usability and scalability of the project and do the second step in the design. The elements on the page are beautiful, but we need to work on flexibility and unification – here comes a challenge.
What do you like or appreciate the most about Flying Bisons?
Patience and flexibility in approach to the project. They challenged us along the way, so together, we were able to create a promising project of a new offering. They were willing to walk us through the process while we were discovering new issues and learning new approaches. The Flying Bisons team understood our viewpoint, at the same time, gave new arguments to change our very firm product offering.
If you were to describe Flying Bisons in 3-5 adjectives, what would they be?
Modern, holistic, bold, and thinking-forward.
Is there any message you'd like to share with the Flying Bisons team members that you worked with?
Thank you for being part of this vibrant project associated with refreshed visual identity. I'm sure it will help online businesses understand how to eliminate fraudulent traffic, save revenue and build trust among end-users. On behalf of Alicja Żmijewska (Project Leader on the Nethone side) and Maciej Kondera (Graphics Design Lead at Nethone), I want to send kudos to Tomasz Cichos, Bartosz Bykowski, Przemysław Baran, Natalia Sidor, among others.
It's important to define expectations and tasks. While you may have a definition of research, it's important to understand precisely what will be done in each part of the process.
Is there anything you would like to share regarding cooperation with Flying Bisons?
If you are working on time & material, it's essential to have a dedicated project manager who constantly communicates with the client. But not to share the same general answers, to resolve issues and try to find a solution. Agnieszka Lewkowicz is such a manager.
It's also important to define expectations and tasks. While you may have a definition of research, it's important to understand precisely what will be done in each part of the process.
What is your advice for companies that are looking for a digital partner?
Define the goals of this project – what you want the new website to bring to you, and what is the website's primary goal. Remember to talk to the teams inside the company. What are their needs and expectations (e.g. HR department), and take all this into account at the preparation stage? It's also important to be prepared for the tool you'll be operating the site with – what functionalities you expect and who will use it. Researching and testing CSM engines before starting the project is essential.
Do you have any advice for Flying Bisons potential customers?
Be patient, ready for a total commitment and prepared to make some adjustments on time, budget, and workforce during the project if the scope isn't 100% fixed. Not everything is predictable when working on a large-scale, complex redesign. Mind it while preparing your workflow plans.