More and more B2B brands get an e-commerce platform to increase their sales. Here's a little all-you-need-to-know guide to B2B e-commerce.
What is a B2B e-commerce?
B2B e-commerce is a business-to-business e-commerce where the products or services are bought and sold online between the businesses. This means that a business's customer or client is not an individual person but another company. In other words, one company is the seller, and another business is the buyer.
On a B2B e-commerce platform, manufacturers can sell to wholesalers, or wholesalers can sell their products to retailers, and so on. The transaction can also take place between two companies in the supply chain. What is sold on the e-commerce platform can range from raw materials and finished goods to digital services and subscriptions.
Online marketplaces, private exchanges, and e-procurement systems are all B2B e-commerce platforms. An e-commerce platform is usually adapted to the business needs but usually has similar features: product catalogues, pricing, and inventory management tools, payment processing, order tracking, and management capabilities.
Types of B2B e-commerce
There are four types of B2B e-commerce: B2B2C, wholesale, manufacturers, and distributors. Let's take a closer look!
B2B2C
B2B2C stands for business-to-business-to-consumer. This means that one business sells its products and services to another that resells them to individual consumers. The seller company usually doesn't have a direct sales channel for consumers but expands its reach to the individual consumer through another business.
For example, one business is a manufacturer of speciality food products. Instead of opening their own store, they sell their products to a speciality grocery shop. The grocery shop then sells those products to individual consumers. In this case, the first business in B2B2C is the manufacturer (supplier), the second is the grocery store, and the C stands for individual consumers buying the manufacturer's products in the shop.
Wholesale
Wholesale might be the first B2B e-commerce that comes to your mind. This type includes a manufacturer or a distributor selling a large number of products to other companies at a lower price (usually with a discount). Wholesalers' e-commerce platforms usually offer inventory management, order tracking, and payment processing features.
Manufacturers
Manufacturers can bypass traditional distribution channels by selling their products to other businesses through a B2B e-commerce platform. This type of B2B e-commerce gives manufacturers more control over pricing and distribution, as well as the opportunity to develop direct relationships with their customers.
Distributors
Distributors purchase large quantities of goods from manufacturers and resell them to other businesses like retailers or resellers. They have good relationships with manufacturers and experience in logistics and supply chain management. A B2B e-commerce platform can help distributors optimise their acquisition process since it enables them to have a single point of contact for any business that wishes to buy a wide range of products.
Stages of B2B e-commerce
As all companies grow, B2B e-commerces do as well. Each stage has different challenges and opportunities, but a B2B business must move through them all to stay relevant on the market.
1. New/Startup
A B2B business often starts as a startup. As they enter the industry and develop their B2B platform, their main focus is establishing their online presence and attracting customers. In the first stage, companies invest in marketing and expand their product or service offer. They're also often dedicated to increasing awareness and developing relationships with early adopters.
2. Growth
Once the B2B company has been on the market for a while, the marketing starts to pay off, and they manage to establish the customer base, it enters the growth stage. Now, the company can scale its operations, broaden its customer base, and increase its revenue. This is the stage where a B2B e-commerce company can improve their business model, optimise its processes, and augment its teams. This is when the business establishes itself on the market and puts business growth at the centre.
3. Expansion
The expansion stage is when the business tries to enter new markets. It can do so by introducing new product lines, acquiring other companies, or expanding into the markets of other countries. Companies at this stage often focus on developing their brand (for example, brand identity and tone of voice), forming strategic partnerships, and leveraging technology to scale their operations.
4. Maturity
After the expansion stage, a B2B business should be one of its market leaders. This means they have a loyal customer base, a strong brand image, and a well-established business model. Only then can it move to the next stage: maturity. At this stage, the company should concentrate on optimising its business, increasing profits, and exploring new possibilities for revenue streams. They should also keep a strong position in the market when new competitors arrive.
B2B marketing
B2B marketing means promoting a business and its products or services to other companies.
The key aspect of B2B marketing is properly identifying the target audience, so the businesses or people in companies who are involved in the decision-making. Much like individual consumers, B2B customers also have needs, pain points, and specific purchasing behaviour. To execute a successful marketing strategy, it's crucial to know them well. After all, a B2B marketing strategy should be tailored to the customers' needs. Whether you plan an advertising campaign, create a content marketing strategy, attend an industry event, or use a social media channel – your actions should correspond with a customer's wants and needs.
However, a B2B strategy isn't just about knowing the customers; it's also about them getting to know the brand. This means building brand awareness and a reputation as a trustworthy, reliable business partner. It includes producing thought leadership content, developing relationships with the industry's influencers, and attending industry events.
Ultimately, B2B marketing is about generating and nurturing leads. Once the customers are encouraged to interact with the brand, staying involved and engaged is important. A lead magnet, such as free trials of a service, whitepapers, or webinars, drives traffic. But personalised content, targeted email campaigns, and special discounts keep the customers around and allow for building long-lasting relationships.
Well-executed B2B marketing ends in closing deals with more clients. It tells potential customers what value the business can bring to their everyday operations and helps them succeed in a competitive marketplace.
How to use a B2B e-commerce platform
A B2B e-commerce platform doesn't differ much from a normal B2C e-commerce platform.
The first step is usually signing up and creating an account, which may involve giving some information about your company (e.g. name, industry, and contact information). With the account in place, you can use the platform to search for products that interest you. If you're not looking for something specific or you've already found what you searched for, it's worth exploring and learning more about the offer. You can browse the available categories and see if you need anything more.
Once you've added everything you needed to the cart and are ready to pay, go to the checkout and place your order. After the payment, you should usually be able to track it. If you have more than one order, you should start managing them to ensure everything goes where it should.
Those steps remain the same on most B2B e-commerce platforms. Still, some may differ depending on the company you're purchasing from or the products or services it offers. Some of them can include more features or functionalities, for example, the ability to request quotes, negotiate the price or access customer support.
Benefits of B2B online solutions
More and more B2B companies are trying out online solutions. It's a great way for brands to become more well-known and gather more leads.
Increased efficiency
Having an online platform can streamline business processes and reduce the number of manual tasks. An automated digital ordering and payment system means there's no need to manually enter data, decreasing the risk of errors.
Better customer experience
Everyone uses the internet these days, and most people use it also to purchase products in their everyday life. We do so because it's easy – and businesses do that for the exact same reason. With an online platform, a B2B customer can easily access online catalogues and get personalised recommendations. This means buying is much more convenient – and a better customer experience leads to loyalty and higher conversion rates.
Increased sales
The better the customer experience, the higher the sales. However, online solutions don't just come down to an e-commerce platform. With digital marketing tools, a business can collect customer data and conduct targeted advertising campaigns and email marketing. Personalisation creates a better experience, and other digital channels generate more leads, increasing sales.
Better data and analytics
Online channels allow a business to gather customer data and analyse their buying behaviour. Recognising buying patterns and determining trends can help optimise sales, as data-driven decision-making leads to more effective business strategies.
Features that a B2B e-commerce platform should have
As mentioned, B2B e-commerce platforms vary depending on the industry, the business, and the customers, but there are some features that each of them has.
Catalogue management
A B2B platform should allow catalogue management. The business using the platform should be able to create, manage, update, and customise product catalogues (including product descriptions, images, prices, and inventory information).
Order management
For a platform to be useful, it should offer an order management feature. This means that it should provide tracking, fulfilment, and shipping functions. The B2B buyers should have a digital dashboard dedicated to managing orders and getting updates or notifications on their accounts and a dedicated email address.
Pricing and payment options
Pricing and payment options on B2B e-commerce platforms should include bulk pricing, volume discounts, and payment terms. It should also support multiple payment gateways as well as integration with accounting and invoicing software.
Customer management
You can't have a successful business without knowing your customers. That's why on all B2B e-commerce platforms, a company should be able to manage customer accounts and profiles and see their order history, preferences, and contact information. It can help create unique offers tailored to specific B2B buyers instead of general discounts for all. Personalised product recommendations and custom prices (based on customer behaviour and buying patterns) can make a buyer feel more connected to the brand.
Integration with other systems
The platform's usability also depends on its integration capabilities. A business should be able to integrate the B2B e-commerce platform with other systems and applications, like ERP, CRM, or supply management systems. Integration with various other systems the business uses can facilitate operations and enhance general performance.
Security and compliance
A B2B platform must guarantee security for the business and the buyers. Data encryption, user authentication, PCI compliance, and GDPR and CCPA compliance – all should be taken care of to ensure a quality experience.
Analytics and reporting
Having a regular sales data analysis and report of your customers' behaviour on hand will help in decision-making and optimising marketing strategies. A great B2B platform should offer appropriate tools to collect and analyse data.
Best practices
Best practices in B2B e-commerce are mostly centred around the customers and user experience. After all, there's a reason the saying "customer is king" is so popular.
1. Understand the customers
Companies and organisations also have their shopping habits. It's important to understand the customers' goals, needs, and obstacles and then tailor products, prices, and marketing strategies accordingly.
2. Optimise for SEO
All B2B e-commerce sites have to be optimised for search engines. Putting in keywords and phrases that customers search for on the website, making the platform user-friendly and optimising it for mobile is essential to its success.
3. Give detailed product information
B2B customers require specific and exhaustive product information. Any product in the catalogue should be described in detail and updated whenever needed. You should also add high-quality images (and videos if you have those).
4. Offer personalisation
B2B buyers often expect personalised prices and product recommendations based on their needs and previous orders. Use collected data and analytics to create special promotions tailored to your customers.
5. Streamline the ordering and fulfilment processes
A seamless user experience for a B2B customer starts with the ordering and fulfilment process going smoothly and efficiently.
6. Provide customer service
And don't just provide customer service – make it exceptional. The B2B customers need support and assistance, so you should have a dedicated customer support team. Their responsibilities should include handling all inquiries, issues, and returns. And they should be accessible too, so have multiple channels ready for your customers to contact you.
7. Measure and analyse performance
When you measure and analyse the performance of your platform, you can see which areas need improvement and implement necessary changes. So take advantage of tools that can help with that (e.g. ones that track your website's traffic, sales, customer behaviour, and other key metrics) and optimise your website to give your customers the best possible experience.
Popular misconceptions
A B2B e-commerce can work only for a large enterprise.
This is a common misconception. While many big companies use B2B e-commerce platforms, there are solutions that also work for small and medium-sized businesses.
A B2B e-commerce is nothing more than an online catalogue.
This couldn't be further from the truth. Yes, a B2B e-commerce platform has an online product catalogue, but that's not all it can offer. There are more features and functionality, e.g. order management, inventory management, and customer management tools.
A B2B e-commerce is too complicated.
We're not going to lie – yes, a B2B e-commerce platform can be complex in terms of structure, but current solutions streamlined the processes to make it more accessible to everyone.
A B2B e-commerce is only for commodity products.
B2B e-commerce platforms are more flexible than that. There can be commodity products, but also other kinds of goods and services, including high-value items and custom-made products.
A B2B e-commerce means losing the personal touch.
Sometimes online selling and buying can feel like it lacks a personal touch. It may have been that way once, but now a business can communicate with clients using chat or email. Even though the process happens online, it doesn't mean you can't build loyalty or relationships with your clients.
B2B e-commerce merely serves as a cost-cutting measure.
A B2B e-commerce is cost-effective, but that's just one of its many advantages. It also increases efficiency, provides better customer insights, and enhances customer experience.
B2B e-commerce example
Textile One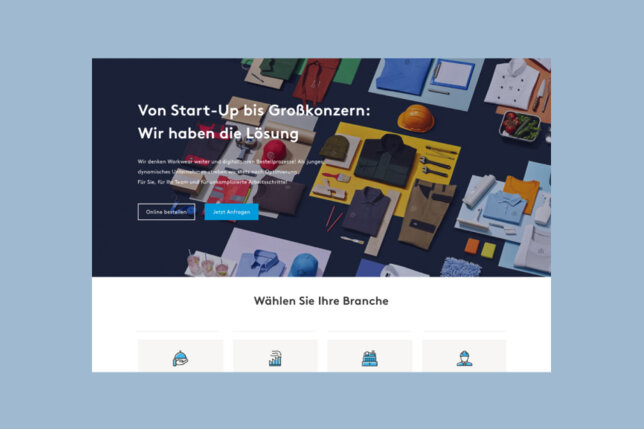 Textile One is a German B2B e-commerce that streamlines the management and optimisation of the workwear buying process. As Flying Bisons, we designed and delivered a platform where content comes first – so that a potential user, a company looking to provide workwear for their employees, can focus on what's important to them: the product. A potential buyer has a lot of flexibility when ordering on the platform thanks to easy-customisable order screens and a transparent overview of the offered content.
Current trends and the future of B2B e-commerce
Mobile-first approach
Like individual customers, B2B consumers are more often searching and buying products on mobile devices. It's possible that in the future, most, if not all, B2B e-commerce platforms will be optimised for mobile.
Personalisation
A B2B customer usually wants a more personalised experience, providing them with recommendations based on what they require and prefer. Businesses are already using advanced analytics and machine learning on their e-commerce platforms to give their customers personalised product recommendations and marketing messages.
AI & chatbots
AI-powered chatbots are becoming more common on B2B e-commerce platforms, providing customers with supporting, answering questions, and giving personalised recommendations.
Subscription-based models
B2B businesses more often decide to adopt a subscription-based model where customers pay a regular fee to have continuous access to a product or a service. This model enables businesses to generate consistent revenue streams and strengthen customer relationships.
Integration with other systems
B2B platforms can now integrate with more systems (e.g. ERP or CRM software), and this trend will most likely continue, allowing for more integration. It will provide a more seamless customer experience and improve the tracking and management of orders, inventory, and customer data.
Stronger focus on sustainability
Becoming more environmentally friendly and creating sustainable products and solutions should be a goal for all businesses. Eco-friendly products are highlighted on e-commerce platforms, and sustainability criteria are incorporated into product search and recommendation algorithms.
Make your B2B platform with Flying Bisons
Business growth starts with the right partner. We can provide complete digital services and an e-commerce platform that outperforms your competitors and increases sales. So if you're ready to modernise your sales channels and expand your reach, don't hesitate to contact us.
Summary
With new technologies emerging every day, it seems almost too risky not to have an e-commerce platform where clients can easily find and reach you. Traditionally, offline may have been the way to go, but the digital world is growing, and there's plenty of space for B2B brands. A B2B business can use its digital presence to gather more clients, and a B2B e-commerce platform is a start.