Saudi Arabia prepared an ambitious Vision 2030, a long-term growth program for their country. And Flying Bisons is here to bring it to life through one-of-a-kind digital transformation.
Saudi Arabia's government wants to reduce the country's dependence on oil to create a more diversified economy. The plan is no short of a challenge as they plan to develop renewable energy and construct new cities and economic zones, amongst other things. Every vital area will undergo significant changes, including infrastructure, education, and tourism.
Key to Vision 2030? Digital transformation & acceleration. Saudi Arabia wants to improve government services and digitalise the sectors yet to make online debuts, such as healthcare, education, and transportation.
Saudi Arabia is moving forward with their plans, and Flying Bisons play an important role in executing their vision.
Our journey with Saudi Arabia started when we redesigned their national HR and Social Development Services platform, Qiwa. We provided them with complete services, from the UX and UI design to writing content for the Knowledge Center. Takamol Holding was impressed with the platform's new version. It was as they wanted it to be: intuitive, clear, and fully accessible despite the project's complexity.
The partnership continues, and Flying Bisons secures another contract for designing digital services for Saudi Arabia
On March 14th, 2023, Kamil Tatol, our CEO, and Łukasz Kowalski, our CFO, signed the contract for the digital services in the presence of the Ambassador of the Republic of Poland to the Kingdom of Saudi Arabia, Robert Rostek.
Barely a week after we signed the contract, Klaudia Doerffer, Head of Delivery at Flying Bisons, and Artur Manista, our Head of Growth, paid a visit to the Ambassador of Saudi Arabia in Poland, Saad Alsaleh, to discuss the partnership with Takamol Holding and talk more about the future of digital services for Saudi Arabia.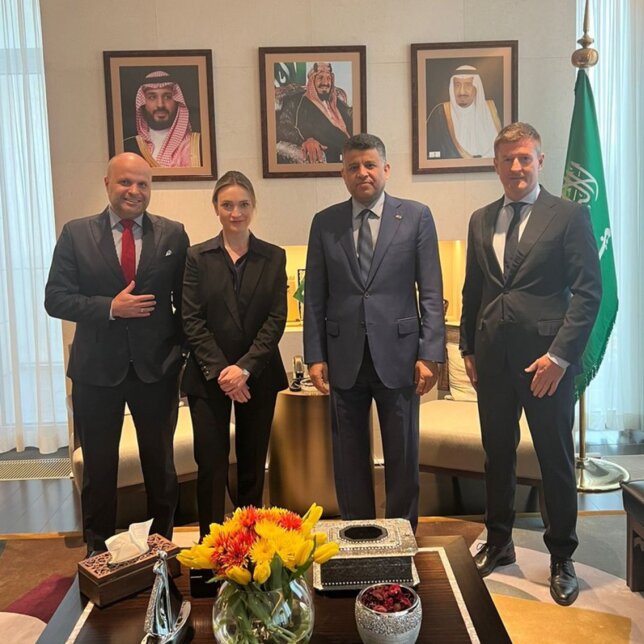 We're excited to work with Takamol on more projects, bring Saudi citizens a seamless user experience, and streamline bureaucratical procedures.